There were over 80 people on Facebook who had said they would be participating as a group for the Raising The Dead Kettlebell Challenge. However, when the time came, approximately 10 or so actually followed through. It's disappointing to have spent so much time creating this challenge but I'm very grateful for those who did join. The feedback, motivation, and encouragement to complete the full 10 days made it all worth it.
What started off as a quick 6-minute workout quickly turned into a test of willpower and endurance. It personally took everything I had mentally and physically to keep going. I don't think it is far off to think that the several other people who finished felt the same way. After such a feat, I thought it might help others understand just how difficult yet rewarding the challenge was.
So if you're wondering if this particular kettlebell challenge is appropriate for you, keep reading as I reflect on my experience and how others persevered. You don't have to be an experienced kettlebell lifter, you only need some practice, grit, and determination. Learning the precise technique of the involved kettlebell exercises will certainly help, but you may still succeed otherwise.
How Adapting Strategy Led To Success
I distinctly recall several participants proclaiming how they didn't know if they could keep their pace in the beginning days. Adding 1 minute each day to the total workout time might not seem like much. However, since the task is to perform as many reps as possible, adequate rest isn't really an option.
Some individuals wanted to go all out and hit all of the bonuses each day. This includes those who used a heavier weight (16 kg.) than what was recommended. While that weight is considered standard or average for most lifters, it will wear you down quickly during the challenge. I knew this would be the case for myself which is why I went with 12 kg. so that I may hit the goals I was striving for until the very last day.
Since there are two scoring options – simple (rep count) and advanced (point-based), it was vital that participants understood their main objective clearly. One of the goals involves working one side of the body for 3 rounds in a row. This is almost an impossible task for most to sustain at 16 kg. or heavier. Primarily due to the difficulty and fatigue that occurs from doing a round of plank rows.
My Recommendation
Once I read the comments from those using 16 kg. kettlebells over their first few days, I had a better idea of what their main goal was. That being, to continue averaging 2 more reps per round each day. My suggestion was to ignore the One-Sided bonus and switch to the opposite side of their body immediately after each plank row round.
While this advice proved helpful, little did I expect that many would do back to back plank rows in rounds 1 & 2. That approach meant getting one of the more difficult exercises out of the way completely. The other two exercises, dead snatch and dead clean & strict press combo aren't necessarily a breeze either. Although the free arm will have rest instead of supporting the body like during plank rows.
Check Out These Results
Participants posted their challenge days in 3 different Facebook kettlebell groups: Kettlebell Workout, Kettlebell Training and Kettlebells for Complete Beginners. These are private groups but everyone is free to join. Unfortunately, I can't embed the posted videos from those groups here as they are private. What I can do is provide a link to certain posts which you can access after joining that group.
Below is a summary of some of the earlier and later day descriptions of the challenge and the participant's approach.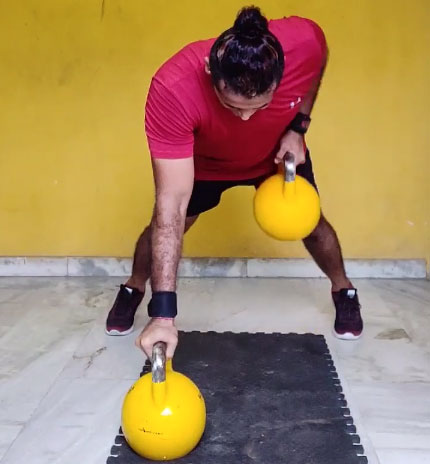 Day 2 – "Was aiming to complete the whole 1:10 mins on each moves and have to maintain this pace for the next 8 days🤔 more challenging days to come" • Post Link
Day 10 – "Successfully completed the challenge. Thanks a lot Ryan Faucher for this awesome challenge 😃👍👏
Wishes and congratulations to all participants • Post Link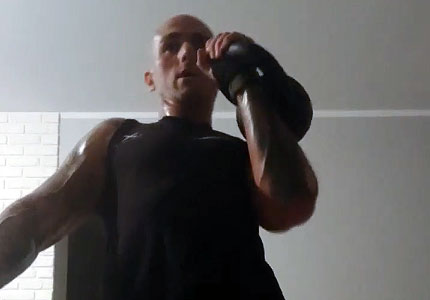 Day 3 – "Did it too fast and technique clean and press was poor" • Post Link
Day 10 – "The road was bumpy. I found the motivation to do my challenge and finished it on schedule. Thank you Ryan, now I am much stronger, my endurance is at a high level!" • Post Link
Not Just For Men
There were some also very strong ladies who completed this 10-day challenge too. I was very impressed with their work and effort. In fact, some also used the same size that I did – 12 kg. While I elected to do half snatches to get a slight bit of rest, one female member did full snatches the entire challenge. Here are her thoughts: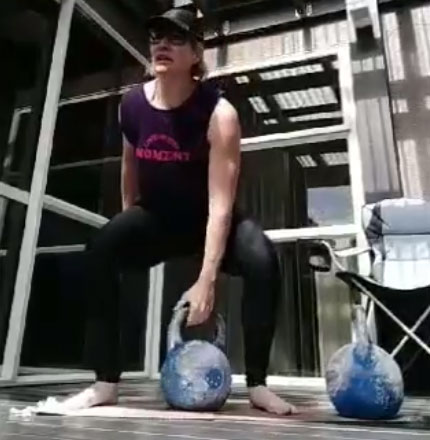 Day 4 – "Didn't really feel it today. 😔 Definitely had time to increase reps by 2, but didn't. 🙈 Will definitely do better tomorrow." • Post Link
Day 10 – "This was an awesome challenge. I am glad that it's over now as it was tough, not only physically but mentally as well, especially towards the last 2 to 3 days. Thanks Ryan Faucher for the challenge. Loved the progress that I made, that I got through it and increased the reps every day." • Post Link
My Progress & Results
When I first came up with the challenge I knew right away the goals I wanted to achieve. Each day, I made it my mission to stay on one side for 3 rounds (bonus of 25%) and also remain in the plank position (bonus of 15%). After doing some test runs a couple of weeks prior, I knew that 16 kg. would be too much for me to reach those goals.
It was a struggle, especially during the last few days. However, I managed to keep up the pace and was satisfied with my results. The final numbers? I went from 91 reps (127 points) on Day 1 (6 minutes) to 225 reps (315 points) on Day 10 (15 minutes).
Check out the videos from both of these days and you'll have an idea of how difficult this challenge progresses. That being said, there is a lot of flexibility so that you can pursue your own goals based on reps or points. In fact, you could even just choose a predetermined round length for a great workout instead of a multi-day challenge.
Day 1
Day 10