Fit Active Sports Workout Gloves Review
About a month ago, the workout gloves I was using for kettlebells started to break down. I experienced this in the most embarrassing way possible when I dropped my 35 lb. kettlebell TWICE in the span of a couple minutes. No, the gloves didn't just fall apart. However, the padding on the palms was noticeably worn out which caused some slipping during transferring of my kettlebell from hand to hand. After nearly a year of regular and heavy use, it was time to retire them.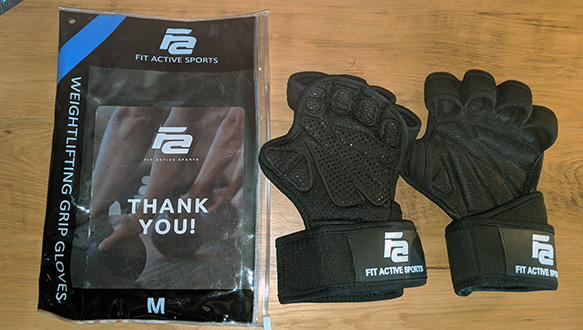 Since I started using kettlebells over a year ago to lose weight, these gloves were my first and only pair. Overall, they definitely lived up to my expectations. Although, I still can't get that image of my kettlebell crashing on to my hardwood floor out of my head. It's something I never wish to repeat. For one, there is the possible damage to the floor (luckily, I didn't see any noticeable dings). Secondly, it made me think, what if I had lost my grip while doing a snatch or an American kettlebell swing? The results wouldn't be pretty. It was at that point that I decided I needed to find workout gloves that were better and more durable.
I'm not saying that my previous gloves were trash per se. After all, it's only a matter of time before any product eventually wears out. I imagine most workout gear and equipment, depending on usage, will ultimately deteriorate after heavy use. Still, there had to be something better. And guess what? There absolutely is!
Fit Active Sports Built the Ultimate Workout Gloves
So what makes me hold these gloves in such high regard? At the time of this post, there are just over 9,000 reviews on Amazon. The overwhelming majority of them being positive. Honestly, I should have paid more attention to these reviews during my first go-round selecting workout gloves. Instead, I let my skepticism get the better of me and chose gloves more niche related because these ones didn't specifically mention kettlebells. Even though they are for weight lifting, I opted for another pair with a heavy emphasis on usage for kettlebell workouts.
Positive reviews are one thing, but how a product performs for a certain function is completely another. Kettlebell workouts are very physically demanding. There is a lot of movement going on and unless you have perfected the technique of the many kettlebell exercises, your palms and hands will develop calluses. Experienced kettlebell users rarely need to use workout gloves but for beginners like myself, gloves offer protection from common mistakes.
After recently using these ventilated weight lifting gloves during several workouts, I've made some observations that make them superior to my old gloves. Some of them are fairly obvious but others I would've never known had I not used them. Let me begin with the obvious factors.
Lots of Open Space on the Back Hand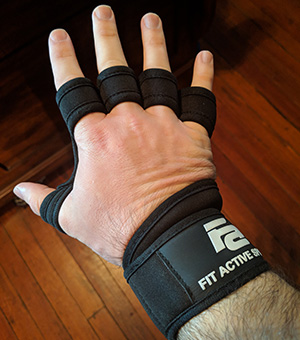 Is it technically a glove with all that space open on the backside? I'm not sure, but as a guy who sweats a ton during workouts, I really appreciate this feature! It makes me wonder why I haven't seen this implemented for other workout gloves.
It's pretty impressive when you think that the only coverage on the backside of the hand sits between the 1st and 2nd knuckles on the fingers and thumb. It's a snug fit so provided you chose the right size glove, all of this open space doesn't compromise how securely it stays attached to your hand. In my several workouts with this glove, not once have I felt any shifting or movement. The open space lets the heat flow out and keeps your hands cooler than they would be in regular gloves.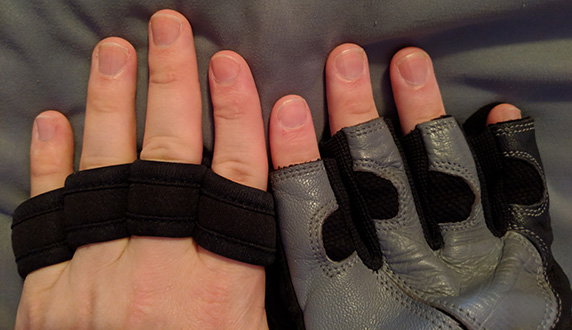 Notice the difference between the open space of the fingers between my new and old workout gloves? I immediately felt a difference the first time putting on the Fit Active Sports gloves. I didn't realize just how much until I wore each one and compared side-by-side.
This "finger freedom" is extremely important for kettlebell exercises. I get the same grip strength as I would bare-handed but with the protection of my palms from the glove. Even the pinky finger can get in on the action! In my opinion, this is as close as you can get with being able to feel the handle when wearing a glove.
Extra Long Wrist Wrap For Support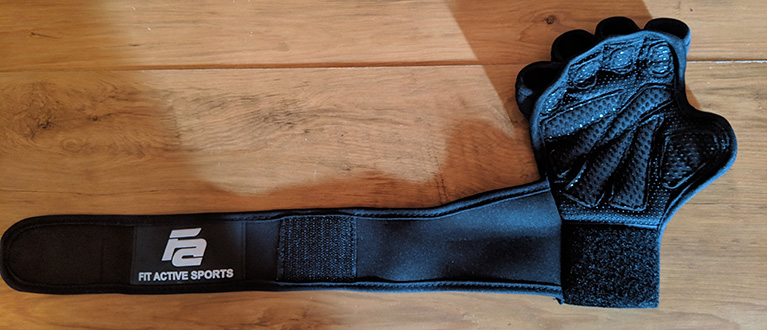 Although the wrist wrap was surely designed to help support wrists and ensure proper form, it also acts as a barrier to protect from kettlebell impact. Of course, with the right technique, there shouldn't be any wrist banging as the kettlebell moves from one side of your hand to the other. However, when you're just starting out and learning these exercises, it's inevitable that some banging will occur.
The length of the wrist wrap is approximately 18″. For my medium-sized workout gloves, this means it can wrap around my wrist twice. Three points of contact for the velcro at the base, middle, and end of the strap ensure that it stays in place comfortably. It's just as easy to unfasten the straps as it is to put them in place making for quick removal at the end of your workout.
Palm Padding Is Just the Right Thickness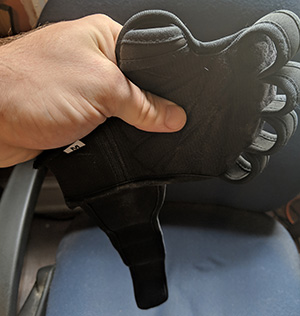 Initially, I worried that the palm padding was too cushy for using with kettlebells. It feels more plush and thicker than my old workout gloves. However, after multiple workout sessions, I now feel more confident than ever handling my kettlebell.
That's not an overstatement on my part. In fact, callouses that I've developed over the past couple of months due to the worn down state of my previous gloves are actually healing! This wasn't possible when I was doing kettlebells barehanded after retiring the old gloves. I'm extremely impressed at the level of comfort that comes without sacrificing performance.
Final Thoughts On These Workout Gloves
You know a manufacturer has a ton of confidence in their product when they offer a no-questions-asked full refund if you're not satisfied. They won't leave a huge dent in your wallet but I can't stress how important it is to choose the right pair of workout gloves that work for YOU.
In this case, you really have nothing to lose by giving them a shot. I wish I would have sooner. I'd expect that they would perform adequately for your typical weight lifting workouts. When it comes to kettlebell workouts, I think I've found my favorite pair for many years to come.
Fit Active Sports New Ventilated Weight Lifting Workout Gloves with Built-in Wrist Wraps for Men and Women - Great for Gym Fitness, Cross Training, Hand Support & Weightlifting.
FULL PALM PROTECTION * No more torn hands, blisters and calluses. Fit Active workout gloves are designed to protect the palms of the hands from calluses, blisters, and other types of injuries that can occur during weight lifting training exercises. LESS RIPS AND TARES, MORE PEPS AND PR'S
BUILT-IN WRIST WRAPS * Experience uniquely designed weightlifting wrist wraps that offers both men and women a superior training experience with superior wrist supports, more strength and added comfort with every work out. Excellent wrist support for performing cross training movements and Olympic lifts like snatches, push press, front squats, and other lifts requiring wrist protection.