Troy G-KBR3 Vertical Kettlebell & Accessory Rack Review
This vertical kettlebell rack by Troy was a gift given to me by my wife for our first wedding anniversary. It wasn't something I asked for but has certainly made life easier for managing my small kettlebell collection. Prior to receiving this rack all of my kettlebells were stored in the corner of my workout room. Honestly, my storage solution was a bit of an eyesore and in hindsight a potential tripping hazard.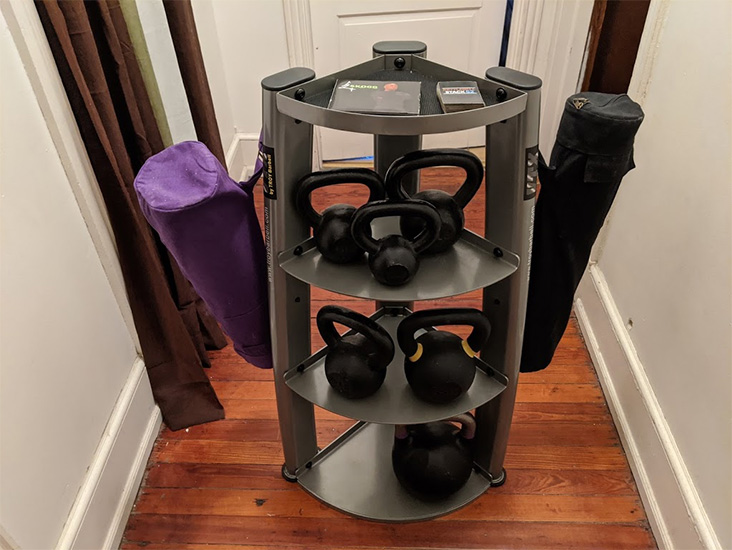 As you can see in the photo above, I don't have a huge collection of kettlebells. Currently, I have just 6 kettlebells of 10, 15, 20, 25, 35, and 45 lbs.. That comes out to 150 total pounds of weight – well below the maximum amount suggested by the manufacturer. In fact, I definitely have room for another large kettlebell (53 lbs. or so) which I plan on progressing to at some point in the future.
This set up is ideal for enthusiasts who may already own a set of kettlebells ranging anywhere from 6 to 10 weights. Of course, the style of the kettlebell will change how many you can fit on a shelf. Regular or traditional kettlebells increase in size in relation to how heavy or light they are. Compare that to competition kettlebells which are uniform in size and therefore take up more space than your typical light to medium kettlebell.
G-KBR3 Kettlebell Rack Layout and Structure
There are 4 tiers or levels of this vertical kettlebell rack. The 2nd and 3rd shelves are identical in structure and are best suited for kettlebells of 35 lbs. or less. The bottom shelf has a lip on the outside which touches the floor for additional support. That allows it to securely handle the bulk of the weight which could support my current total weight of 150 pounds! The top shelf has also has a lip that extends upward and features a rubber insert. You could probably get away with storing a lighter kettlebell on this shelf, however, I'd recommend using it for small accessories like gloves or exercise cards.
The posts attached to the shelves appear to have durable plastic caps at the top and bottom. It's just the right firmness where they aren't too squishy as to impact stability nor too hard which might scuff hardwood floors. The two side posts have a slight outward curve and also come with hooks. These two hooks account for the accessory part where you can hang jump ropes, resistance bands, or exercise mats among other things.

The assembly of this vertical kettlebell rack is pretty straightforward. You have your shelves, posts, hooks, and several sets of bolt, nuts, and washers. There are just one page and one diagram for the instructions. Even if you're not very savvy at following assembly instructions, the diagram neatly details every part and how it connects. It's not as complex as setting up a piece of furniture and even includes the necessary tools to screw in the bolts.
I actually put this rack together by myself and the tricky part was just balancing and aligning the shelves with the holes when inserting the bolts. If I had to guess, it probably took about a little over an hour from start to finish. If you have a buddy (or wife!) to help hold the pieces in place, that time most likely could be cut in half.
Once you're done, all that's left is to move the rack to your desired location. Without any kettlebells, it weighs around 60 lbs. Certainly not flimsy but also manageable to move it yourself without assistance. After all, you should be used to lift heavy objects at this point!
Final Thoughts on the G-KBR3 Kettlebell Rack
Surprisingly, there aren't many options for 4-tier corner or vertical kettlebell racks. Sure, for hardcore fitness addicts there are plenty of bench-style kettlebell racks. Those, however, are typically 2 or 3 shelves and leave a much larger footprint. If space and organization is a concern, it may be difficult to use those style of racks in a non-dedicated area.
For enthusiasts like myself, a corner rack offers convenience that just can't be beaten. I have my rack tucked away neatly in my wardrobe closet among my dozens of t-shirts hanging in front and off to the side. My typical workout routine will have me grabbing a kettlebell from this area and bringing it to a nearby bedroom to get my reps in. No more clutter on the floor and with room to grow my collection too!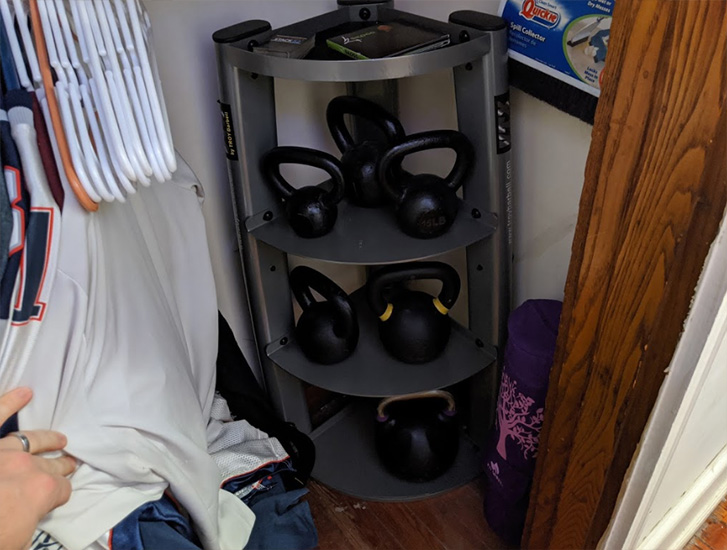 UPDATE: Unfortunately it seems like this vertical rack is no longer in production or available. However, there is a similiar kettlebell rack from SPRI which might be of interest. For details click on the link below.
SPRI Steel Kettle Bell Storage Rack
KETTLEBELL RACK: Triangular shape makes this solid steel rack very stable and able to be placed in virtually any space
THREE SHELVES: Designed to hold multiple sizes of kettlebells (2-3 per shelf) making them organized and easy to access