Skogg System Kettlebell Program Review
My first impression when seeing the cover of this program was one of intimidation. Here's this instructor, clad in black, with his arms crossed and the intensity of a boot camp drill sergeant. I thought to myself, "this is out of my league and only for seasoned athletes looking to improve". Thankfully, that couldn't be further than the truth.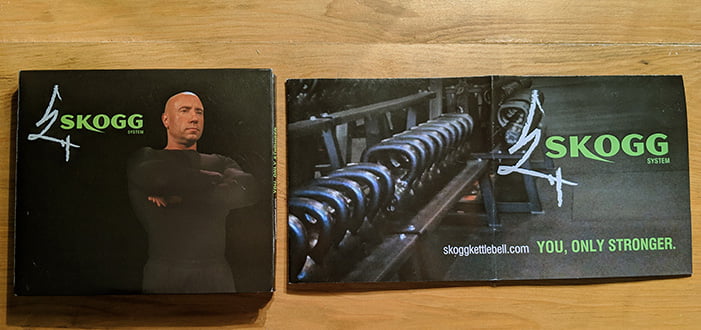 While kettlebell instructor Michael Skogg's demeanor on the cover of this 5-disc DVD set is serious, his presentation during each workout is supportive, encouraging and at times a little humorous. You're not required to have any experience with kettlebells prior to starting this program. However, even if you do, there are plenty of good tips and advice for kettlebell enthusiasts and novices.
I found that Michael's interaction with the viewer and his two demonstrators had a perfect balance. The blend of casual, instructional, and motivational conversation is just right. There are no long silences, nor any obnoxious commentary. That's important because as you progress, you'll watch each of the 4 workout DVDs repeatedly. It never really gets old and as your body tires those "Good job" compliments really help bring you to the finish line of each workout.
What's Included in This Kettlebell DVD Set
The 5 discs would've been adequate enough. However, the slick design of the DVD case and accompanying insert tells me that a lot of thought was put into this product. This isn't just some quick money-grab workout program thrown together. That should help alleviate any concern about the cost of this DVD set versus typical workout programs.
Instructional and Scheduling Insert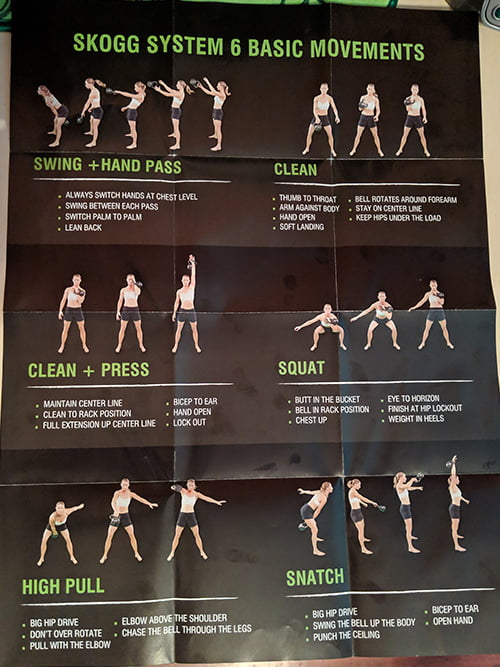 The insert/poster for this kettlebell program features details of each of the 6 moves that you will perform. On the opposite side is the 12-week schedule which excludes Sundays. You'll notice that the schedule lists streteching days which I personally treated as off days. The numbers (1-4) denote the skill level of progression with 1 designated as a beginner and 4 as a warrior. I'll get into the difference between these levels later on.
If you're expecting an exotic workout, you might be disappointed. The 6 kettlebell exercises are fairly common and keep things simple. There's no Turkish get-ups, jackknife's, or other advanced moves. Honestly, they aren't necessary. These 6 moves are designed to test your endurance and keep you at a fast pace. I guarantee that after each workout you'll feel the burn in your muscles.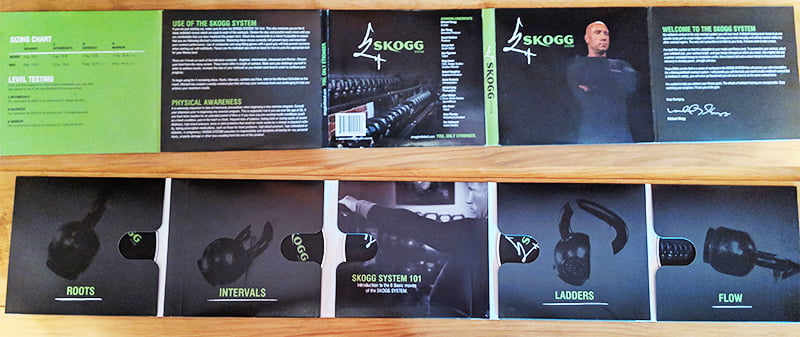 The casing of the DVD set makes good use of each of the 5 outside and inside sleeve covers. On the outside is where all the informational content resides. The "Welcome to the Skogg System" has a personal note of what to expect from this kettlebell program. Michael boldly claims that this is the only workout system you'll ever need. After 3 months of using it, I concur! He suggests that if you want to work on cardio, choose a lighter bell. For people looking to increase power and strength, go with a heavier one. There is no wrong weight.
Speaking of weight, I really appreciate the sizing chart and level testing section on the case. The majority of trainers suggest that men start off with 35 lb. kettlebells. In the Skogg System, they have different levels that I mentioned earlier for kettlebell weight recommendations.
Beginner – Women (4 kg. / 9 lb.) | Men (8 kg. / 18 lb.)
Intermediate – Women (8 kg. / 18 lb.) | Men (12 kg. / 26 lb.)
Advanced – Women (12 kg. / 26 lb.) | Men (16+ kg. / 35+ lb.)
Warrior – Women (12+ kg. / 26+ lb.) | Men (20+ kg. / 44+ lb.)
It's great to have a kettlebell trainer that understands that there are many men and women who don't fit the profile of average. Just because you're not swinging around a 35 lb. kettlebell to begin with doesn't mean you won't get great results. Nor does it mean that you won't be able to do so eventually. I started working out with kettlebells a year ago with a 15 lb. weight. Now, I've completed the Skogg System at the advanced level with a 35 lb. weight.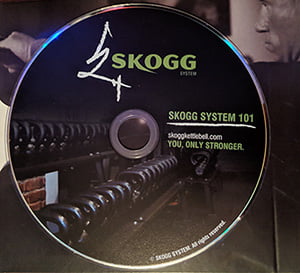 Disc 1 is basically the core of this entire kettlebell program. You'll learn the fundamentals of each of the 6 kettlebell exercises. Unlike how most online videos just give a simple demonstration, Skogg System 101 goes into great detail. Things like where to grip the kettlebell, the power generation of each move, and the proper alignment of your body are all explained. In order to really drill this into your brain, visual cues and bullet points are used to reinforce the correct technique of every exercise.
This is the only disc which you'll most likely view just once or twice. There are no workouts, but learning the right way to use kettlebells is essential to avoiding bruising or injury. Plus, Michael is constantly reminding you of these techniques during the workout sessions on the other discs.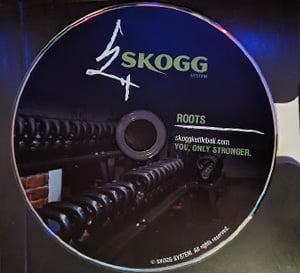 The Roots disc contains the first workout you'll be performing after learning the 6 kettlebell moves. Before beginning, there is something important that needs to be done. That being a warm-up. Warm-ups are usually something I never really took seriously. I preferred to just jump right into my workouts. Although, I now realize that probably wasn't the smartest thing to do.
The majority of the warm-up exercises differ from disc to disc. What I like about them is that they are quick and effective at loosening up your body for the harder stuff. Fittingly, these warm-up routines become more difficult just as the workouts do as you progress through each disc.
As far as the workout, you'll be doing each of the 6 exercises for 30 seconds with each arm. The level you've choosen (1-4) will determine how many rounds you must perform for each exercise. For instance, beginners will do 1 total minute of an exercise, switching arms at the halfway mark. Warriors are required to do 4 total minutes of each exercise, still switching arms every 30 seconds.
This may sound easy, but every second adds up. Consider that as a beginner you're doing 6 total minutes for all of the exercises. At level 4 that multiplies to 24 total minutes. It's a great way to scale these workouts over the 12-week kettlebell program.
You'll come to appreciate the visual timer that tells you when to switch arms. In addition, Michael typically counts down as well: "10 seconds… 5,4,3,2,1". For me, those words were sweet music to my tired arms!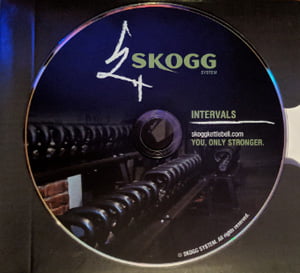 The Intervals workout takes a similar approach to the format from Roots. However, instead of switching arms at the 30-second mark, you're doing a different exercise on the same arm. It's essentially a combination of two exercises in 2-minute intervals. As an example, you'll be asked to do 30 seconds of swings and then another 30 seconds of cleans. After the minute mark is when you repeat those same exercises on the other arm.
If you do the math, that's 3 sets comprised of 2 exercises in 2 minutes for a total of 6 minutes. That equates to 1 round which is the beginner level. Level 2 must perform 2 rounds and so forth. It's certainly a challenge since your arm doesn't get that relief at the 30-second mark like in the Roots workout.
At this point, you'll probably have those exercises you love to hate. The squat is that exercise for me. It takes a toll on my legs and knees! This is one of those workouts that can be grueling in the later levels but oh so satisfying once you've completed it for the day.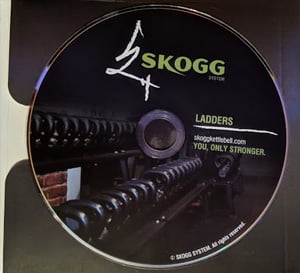 The Ladders workout is definitely my favorite out of this kettlebell program. It's not too taxing on the arms but you'll still get very sweaty! The goal is to work your way up through rounds with increasing reps for each exercise. Starting at round 1, you'll perform 1 rep of an exercise with the right and left arms. This continues until you you've completed all 6 moves.
After the 1st round the reps increase to 2 per arm. So you've gone from a total of 12 reps in round 1 to now a total of 24. How many rounds you need to complete depends on the level you've selected. At level 4, the final round is 6 reps per arm per exercise. That equates to a total of 72 reps!
It's actually not too difficult working your way up the ladder. However, once you've reached your level's top round you must then work your way back down. This includes repeating that level's peak number of reps. Using level 4 as an example again, that means doing the 6 rep round twice in a row. Afterward, that sequence decreases to 5 reps, 4 reps, and all the way back down to 1 rep.
It's a great workout because of how easy the beginning and later rounds are while the middle portion is the most challenging. Since there is no set time, it is advised that you go at your own pace and not worry so much about keeping up with Michael and his demonstrators. Unlike the 2 prior workouts, the rest periods in between each round are only 5 seconds. You won't get much of a break, but it was designed as such to keep your heart rate elevated.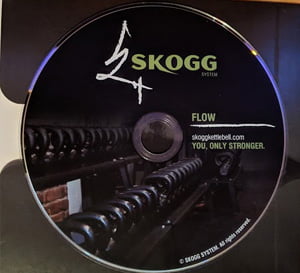 I've talked about my love for kettlebell flows many times over the past year. If you're unfamiliar, the term simply refers to a seamless transition from one kettlebell exercise to the next. The point is to never really stop moving and avoid any resting until completing the set of exercises.
In the case of this Flow workout, it's these 6 core exercises which are arranged in such a way to allow for easy transitioning. The format is very similar to that of the ladders workout. You work your way up each round to that level's peak rep count and then descend. The caveat is that each rep and exercise is done with one arm before switching to the next.
You'll need a lot of mental toughness and will power to get through the more advanced levels. My arm started to feel like a wet noodle when I did 6 snatches, 6 high pulls, 6 squats, 6 cleans, 6 clean & presses, and 6 swings before doing it all over again with the other arm. The good thing is that time will seem to fly by due to the fact that you'll be concentrating on preserving all of your strength for the home stretch.
It should come as no surprise that this would be the last disc since it is the most difficult. As challenging as it is, the reward is that your bicep muscles are going to grow VERY quickly. As Michael put it earlier in this kettlebell program, "Who has time to work out 90 minutes a day?" You can accomplish so much more in a fraction of the time (30 minutes tops) with kettlebell workouts.
Skogg System 5 Disc Kettlebell Program
It contains one instructional DVD and 4 workout DVDs. Each workout has 4 different levels, so anyone from a novice to a warrior can tailor the workout to fit their fitness and ability level.
Final Thoughts on This Kettlebell Program
The Skogg System has a progression system that is easy to pick up for beginners but also suitable for kettlebell veterans. It's a no-frills kettlebell program that lives up to its motto, "You, Only Stronger". The only piece of equipment you need to start working out is, of course, a kettlebell. In fact, if you have space, you can do these workouts right in your living room.
Let me just say that I've definitely noticed how much overall strength I've gained since starting the Skogg System. I really tested myself by going with my current kettlebell weight of 35 lbs. The beauty of this program is that you can do it all over again with a heavier weight. Simply start back at level 1 (beginner) and follow along through another 12 weeks.
When you're doing these workouts I suggest keeping a towel and water bottle nearby. The short breaks that are given provide the perfect opportunity to prepare for the next round. You'll be a hot sweaty mess at the end of each workout, but trust me, it's all worth it! There is also a sense of pride that comes with successfully completing the program. I just had to make the Instagram post below after finishing level 4 of the flow workout.