Finding the time to cook dinner isn't always easy. Life has a way of creeping into one's daily schedule throwing everything out of whack. The easiest solution is to just order take-out. However, that's usually not the healthiest of options and the cost adds up quickly. Fortunately, Real Eats solves this problem with its healthy meal delivery service.
The process is simple. You select your meals on their website for upcoming weekly delivery dates. Those meals are then shipped to your door where you only need to heat and eat. The time it takes to heat and plate your food is less than 10 minutes. It's a great way to have dinner ready in a flash if you're scrambling last minute.
In my Real Eats Review, I discuss what the service is like, pricing, and who it might work best for. I know money is tight these days so it has to make sense financially. Thankfully, Real Eats provides some flexibility to their service to help better manage costs. Still, is it worth the price? How does the food taste? Keep reading to get my honest take.
Signing Up For Real Eats Subscriptions
First things first, Real Eats is based out of New York and currently only deliver to the east coast U.S. As of this moment they go as far south as Georgia and west as Minnesota. For the most up-to-date information you may consult their faq. The good news is delivery is FREE with every order.
Meal Plans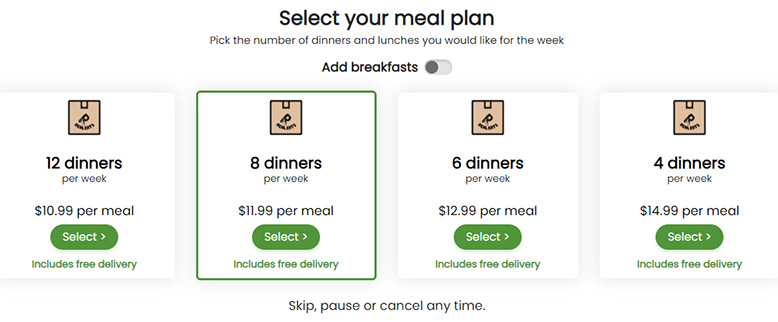 There are four options to choose from for weekly subscriptions. They include having 4, 6, 8, or 12 dinners shipped at a time. The higher the number of meals the more of a discount per meal you get. Doing the math on the low end that's $14.99 per meal for 4 meals which equates to $59.96 per week. If you select 12 meals at $10.99 per meal you'll pay $131.88 weekly.
As you see in the image above Real Eats allows you to skip, pause or cancel any time. You're not locked into a contract. If you're unhappy you're under no obligation to continue ordering. I really like the skip feature which I use to order the 4 meal plan every other week. I'm only spending $120 a month for 8 meals which would be similar to the cost of take-out or even less!
Meal plans also offer the ability to buy breakfasts and other add-ons. Although, I only get the dinners as I suspect most of their customers do too. I will say that I've never felt forced or bombarded with messages enticing me to upgrade meals. It's easy enough to skip over these additional food items and place your order.
Placing Your Order
Orders are shipped on Mondays and will likely either arrive the next day or on Wednesday depending on your location. Since I've started ordering from Real Eats I've always had my meals arrive on the next day. There is a cut-off day when orders are locked in. That used to be the Wednesday prior to shipping but recently was extended to Thursday.
Each week you'll have roughly 18 meals to choose from which include the main dish and two sides. New meals do rotate and replace others every week in some cases. For the most part, many meals are available for ordering on a regular basis. If not, they typically return a week after being replaced. So if you have any odd favorites you never have to go too long without them!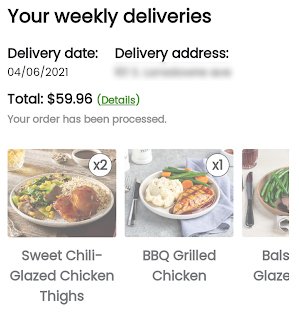 The one thing that is disappointing is the inability to pick your sides with the main dish. Understandably, this may not be feasible for their business. However, there have been times where the main dish and one side look very appetizing yet I've skipped that meal. That particular side is usually asparagus – just not my thing! I don't expect to have a full range of choices, however, an option or two to substitute with another veggie would do wonders.
I'm pretty sure I've seen meals swap such offending sides with others on an alternating basis. Perhaps with green beans, peas, or broccoli. Since they have a feedback form, it's possible some customers have mentioned this issue. Really though, it's a matter of taste and what one person likes/enjoys may differ from others.
The Real Eats Ordering Interface
One of the best things about this service is the accessibility to order. As a web designer, I'm impressed just how smooth the ordering process is on desktop or on mobile. In fact, it's so effortless on mobile that I regularly do it from the comfort of my bed at night. It doesn't feel like a chore and the hardest part is actually deciding on which meals to choose.
Everything you need to complete your order is either a short scroll, swipe, or click away. Plan or skip your meals several weeks in advance if you'd like. Want to add multiple quantities of the same meal? Just hit the plus button over that image. It's a multi-step process that takes only as long as it does for you to select your meals.
Receiving Your Meals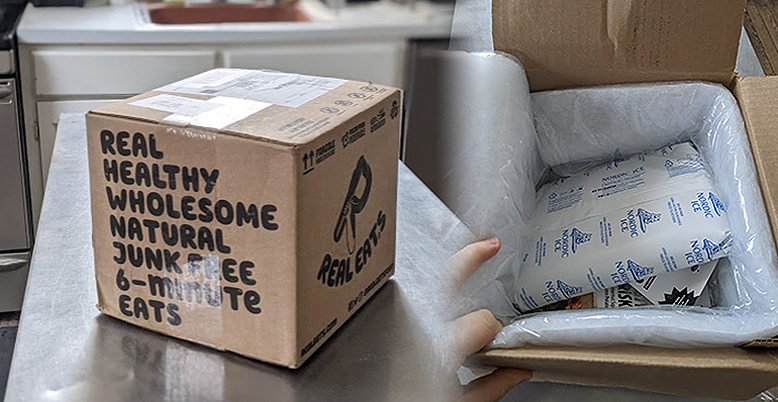 Since these meals are made fresh and not frozen they need to survive the shipping journey without spoiling. To preserve the meals Real Eats insulates your order with specialized cooling packs. I can't say for sure but I'd bet they'd withstand several days of extreme temperatures before starting to warm. You'll definitely want to put your meals in the fridge as soon as you can just to be certain.
The packaging and box that meals are shipped deserve some praise too. The brand logo is prominently displayed on the box as well as a slogan and handle & care information. It's a nice touch that other meal delivery services probably overlook.
The Meal Pouches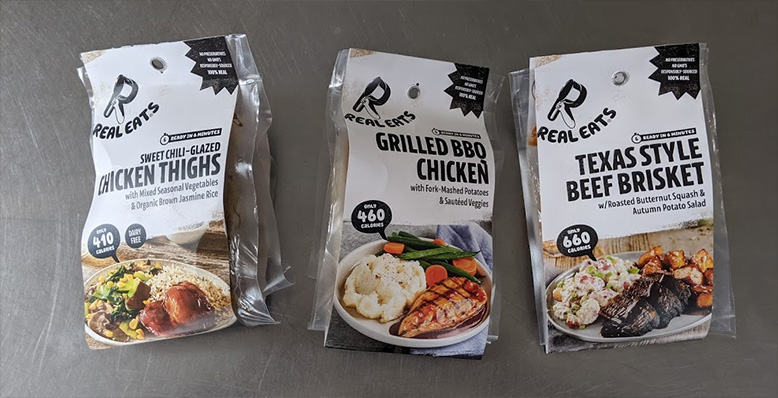 I have to admit, the presentation of the meal pouches is also very impressive. There's the logo again, the calorie count, meal description, and the picture on the front side. On the back, you have the nutrition facts with ingredients and heating instructions. A simple label of the meal might have sufficed but I absolutely appreciate Real Eats going the extra mile. It looks like an item you'd purchase from the refrigerated section of your grocery store.
At first glance, I thought that what I saw online for the meal picture didn't translate to the expected portion size. The pouches are small and there is no way a full serving of the main dish and sides is contained in them! As I found out though, it's just efficient vacuum sealing and packaging. Since my fridge space is precious I've come to appreciate this aspect.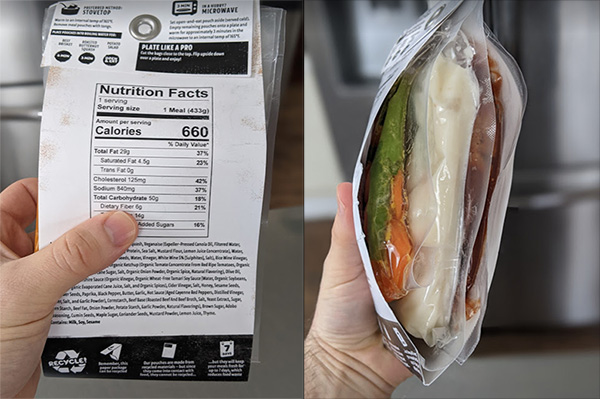 Heating Your Meals
There are two choices for heating your meals. The preferred method is boiling with water and submerging the pouches at specified times. A few sides are ready to eat cold but typically you'll boil the main dish for 6 minutes and then add sides later once 3 minutes has elapsed. This might surprise many but I prefer the fast method using the microwave.
For in-a-hurry heating of the meals just empty the pouches of the sides (except for those meant served cold) and the main item on a plate and heat for 3 minutes. That's it. No waiting for water to boil or adding sides to heat afterward. I've heated every meal this way except for one time where I boiled. I honestly didn't notice that much of a difference and have been satisfied using the microwave method.
I suppose how many meals you're trying to heat at once may affect what method you choose. For my wife and I, we just heat our two meals one at a time. The whole process takes maybe 10 or so minutes. Using a large enough pot you should be able to heat 2-4 meals at once with no problem. That would likely save time versus swapping plates in the microwave.
How The Meals Look & Taste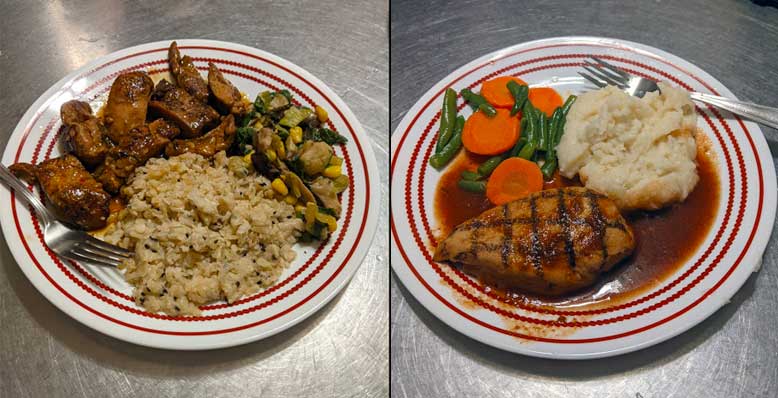 I was curious to learn just how close the meals looked when I plated them versus the online pictures. The above photos show the BBQ Grilled Chicken and the Sweet Chili-Glazed Chicken Thighs meals. When accounting for the professional photography and background ambiance of the online photos, the meals are damn near identical. They definitely met my expectations looks-wise at least.
More important than looks, of course, is the taste. After having several different meals which include chicken, beef, and fish – all were very succulent. The flavor is savory and the texture very tender. I never felt any of the main dishes were undercooked or too fatty/chewy. The entire meals themselves are the perfect portion size for my appetite too.
Now, I'd be lying if I said everything was perfect. The assortment of veggie sides ranges from adequate to good. The biggest issue I had was that sides such as green beans, broccoli, and carrots are a little too crunchy. I prefer a soft (not mushy) texture that doesn't have much resistance when chewing. It's possible that heating those veggies a little longer might do the trick – although I haven't tried that yet.
Who Is Real Eats For?
If I had to guess I'd say the biggest competitors of Real Eats is take-out food and frozen dinners. Take-out is neither a financially viable nor health-conscious solution for a semi-regular basis. Frozen dinners, even the "healthy" options, can never compete with a fresh meal. I've had my fair share of them in the past and none could quite achieve the tenderness and juiciness I desired.
For those of you considering whether it's worth it to try this service, I suggest analyzing your home and work life. It probably doesn't make sense for a large family to each get separate meals. The more mouths to feed per night, the greater the cost. For most families, every dollar counts in their budget!
In my opinion, the ideal Real Eaters are either individuals or couples. Since my wife and I are parents to a 5-month old child, adhering to a schedule isn't always possible. Exhaustion also plays a part and neither of us really feel like cooking a meal.
Putting a Real Eats meal in the microwave gives us an effortless option. By alternating order weeks, we get 4 nights a month of stress-free dinner preparation. That might not sound like much but it's about balancing our budget with time. We use those 4 nights as an emergency backup and that type of planning suits our needs.
I believe busy single people may benefit greatly from Real Eats too. Working many late nights of overtime during a particular week? Get the 4 or 6 meal plan for that week. During slow weeks simply skip them and save your money for another order later on. Really, it's about being savvy with your ordering habits.
What Makes Real Eats So Appealing
Obviously, there is the convenience factor. Second to that, the low-calorie count of every meal is a life-saver for those wishing to maintain a healthy diet. In most cases, meals are anywhere from 400 to 600 calories. There are some in the high 600's but I have yet to see any at 700+. If you're trying to lose weight, Real Eats is an excellent fallback option over fatty junk food.
All of the meals are usually good for about a week from the shipping date. That affords a little bit of wiggle room when it comes to consumption. If need be, you may freeze them but only if absolutely necessary. There are no heating instructions from frozen so use your best judgment. Although, if you choose the appropriate subscription that shouldn't pose a problem.
Sign Up And Save
The staff at Real Eats really wants you to try their service. They almost always offer a discount for first-time orders at 25% or more. I did a lot of research on my end before ultimately deciding to give them a shot. The many highly-praised comments on their Facebook page helped seal the deal. The responsiveness to customer feedback is excellent and they have surveys asking for ideas to improve.
Right now, there's an excellent deal that gives 50% off of your first order. It's available only for current customers to give to family or friends. In this case, I'm giving it to you – the reader! What's the catch? For every person I refer, I'll get 50% off my next meal too. It's a win-win for us both. Once you sign up, this same offer will become available to you for sharing. Get the deal by going to this link.
If you decide to try this meal delivery service please let me know how you like it. You may do so by leaving a comment below. Hopefully, your subscription will make your meal planning a little less stressful. Oh, and by the way, my favorites so far are the Sweet Chili-Glazed Chicken Thighs and Texas Style Beef Brisket. If you're struggling to decide on your first order – try those out!