It is pretty likely that an athlete may have a physical or mental injury at a certain stage of their career. Athletes can lift heavy weights and take part in different training sessions and other activities to prevent damage, but accidents still happen. The athlete's approach to the injury will determine how long they are out of competition and even training.
Discover More About Your Injury
Your level of anxiety or tension lowers as you gain more information regarding the origin, course of therapy, and preventative measures for your injury. Learn what you can do to recover quickly and completely by seeing your physician, doctor, trainer, coach, or therapist. Start by finding out your diagnosis, the type of injury you have, potential treatments, reasons why you are obtaining them, how long it will take you to heal, other exercises that you can do comfortably, etc.
When it comes to athletes, the most common types of injuries are lateral sprains, low ankle sprains, and broken ankles. Depending on your injury, you can also read more about it after consulting with professionals. You can learn more about treatment phases or how to know if you have a broken or sprained ankle.
Have a second opinion if any of the comments from your care team make you uncomfortable, specifically if surgery is advised.
Consider Your Recovery Your Own Responsibility
It may be more advantageous to just admit that you do have an issue rather than try to figure out why your performance has decreased. This encourages you to assume responsibility for your rehabilitation, which may alter the course of events.
You can gain more self-confidence by taking charge of your healing process. Instead of forcing yourself to function at your pre-injury level, it also helps in your rehabilitation.
Continually Commit to Your Treatment
While some people get frustrated or slack off on therapy, others are tremendously driven and put forth a great effort to return to the game. To heal quickly, follow your doctor's and/or sports trainer's advice, show up regularly for your treatments, and be dedicated to getting over your injury.
You can maintain your equilibrium as you work toward your ultimate goal of recovery by setting manageable weekly or daily goals that create momentum. Your inner dialogue is just as crucial. Work hard and keep a positive outlook to make the most of your daily therapy. Maintain your focus on what you have to do rather than what you are missing.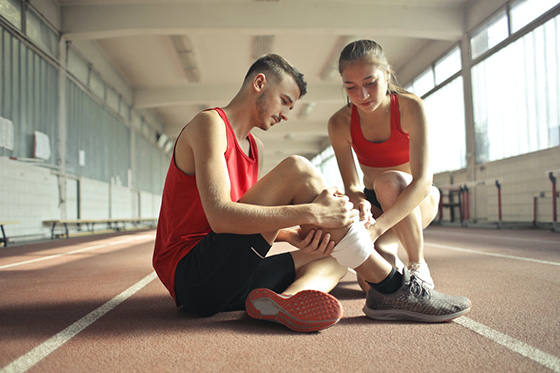 To Heal Your Body, Use Your Mind
A growing body of studies suggests that adopting mental strategies and techniques like self-hypnosis and imagery may be able to hasten the healing process. Using all of the senses, imagery creates mental pictures, emotions, and sensations that provide the impression that the desired goal is happening right now or has recently happened.
Get Assistance
After an injury, it's usual for people to withdraw from their friends, coaches, and teammates. However, it's crucial to stay in touch with people as you recuperate. When you really need to vent, they can listen. They can also provide guidance or inspiration while you're in therapy.
Be in the company of positive people who can encourage you as you bounce back and boost your confidence when you're feeling down. Being conscious that you are not alone in coping with the injury can be really comforting.
Set the Right Objectives
You should continue to plan and create goals even if you are injured. Make the injury a new training challenge rather than treating it like a disaster. Your goals will now be recovery rather than performance. This will keep you inspired.
You can keep track of your goals and see slight advancements in the healing of your injury. You'll have more faith that you're improving and becoming better.
Recall communicating frequently with your counselor or physician. They can assist you in creating goals that are appropriate for every stage of your rehabilitation. Most athletes have the propensity to push themselves too hard and too quickly in an effort to hasten their recovery. It's necessary to keep your injury in mind and be aware of your limitations.
While Injured, Maintain Your Fitness
You might be able to change your workout or add new methods of exercise to maintain your strength or cardiovascular fitness, depending on the level of injury you have. To create a successful alternative exercise program, consult your coach, therapist, or doctor. If you are unable to run, consider cycling or swimming.
Practice flexibility and relaxation techniques. Develop a reduced strength training program, engage in a moderate quantity of cardiovascular exercise, or concentrate on improving your dietary health.
An injury doesn't have to radically alter your entire world; it may be conquered with the correct information, encouragement, and patience. Most athletes may recover from small injuries quickly and serious ones over time by taking things slowly, setting attainable goals, and being positive and focused. For something like a comprehensive diagnosis and treatment strategy for any injury, consult your doctor.